BLOG
LATEST NEWS
15.01.2013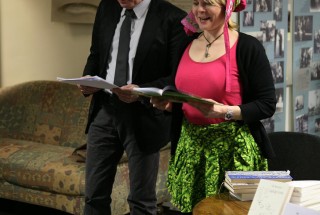 Actually, she has already been captured and kidnapped, wrapped in the thick air of a few seaside towns and in all the capitals of the capital (th. is Riga) - since the book by Heli Laaksonen was translated into Latvian, she's ours. As simple as it is. The translator - Guntars Godiņš - has accomplished the mission of taking Heli in a book-opening tour in Salacgrīva, Madona, Jēkabpils, Rīga (mentioned above), and Ventspils (the famous blue cows of the region - almost mentioned above).
I happened to be in the final reading, at Ventspils Main Library. Heli and Guntars were warmly welcomed by the local public, and fulfilled almost two good evening hours -- poeming and talking, commenting and pointing out, counting birchtrees and sometimes even cows. The book, "Kad gos smei", published by Mansards, has been around, emerging and disappearing from bookstores for some weeks already, but, as I noticed, most of the port-town inhabints who were present in the reading, used the option to get it straight from the author's hands, and to exchange with Heli a few words in their local dialect, called also tāmniek mēle (the tāmnieki tongue). All the Heli's poems in translation has to be blamed in a fact, that people are convinced that this Finnish poet speaks fluent Latvian -- and particulary, their sea-shore-version of it.
During the Ventspils event, also Līga Reitere, one of the native-speakers of west-Kurzeme dialect and also a teacher of the local Craft's house (Amatu māja), gave a touching speech on the necessity of writing in dialects, expressing oneself exactly as one's heart tells, and compared the dialect in which Guntars had translated Heli's poems, whith the very much alike, but still slightly differing Ventspils version of the same Liiv people influence. They, the Liiv nation, used to live along... Read more
29.10.2012
As you may have noticed from our webpage, we are doing an exhibition called Poetry Ride – the seven first years. It will be a travelling exhibition, touring around Estonia in different libraries and other exhibition venues. And I have a hunch it might tour elsewhere in the world (or at least Nordics and Baltics...) as well. The exhibition will have its premiere in the Estonian National Library in November, and it will be open to the public 8.-28. November. It will have things to see, hear, read and even to write.
It hasn't been an easy task to make an exhibition about a travelling poetry festival dedicated to translating poetry. But although the exhibition isn't ready yet, it feels we are moving into right direction. The exhibition design is made by Jorens from Designhouse (www.designhouse.lv) and once again he has found innovative ways to present our challenging exhibits. And a big part of the exhibition are the photos and video made by Alisa Javits http://alisajavits.blogspot.com/. And big thanks go to Anniina Ljokkkoi and the other past and present trainees of the Finnish Institute in Estonia, who really have been a great help to this festival. There is till a lot to do, but it seems we are making something quite interesting.
...
Read more