BLOG
LATEST NEWS
16.04.2016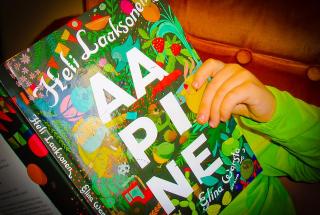 Very, very soon Poetry Ride will be on the road again! Leelo Tungal and Heli Laaksonen will tour around Latvia to meet young and ex-young fans. Everybody in Estonia will now understand that this is an event for children, as Leelo Tungal is mainly known as a writer for children. Maybe even as the writer for children.
Latvian kids got to enjoy Tungal's joyful wordplay, as Daudzpusigais ronis was published in 2013. It was well received... as was its author, when she was performing in Riga to 400 children! Laaksonen's Piec ait kalns (the original title in Finnish is Aapine), her first book aimed to child audience, was published in Latvian recently. Both writers share the same translator, Poetry Ride's artistic director Guntars Godins as well as the publishing house Liels un mazs, whose representative Inese Zandere (herself a poet) will be play the host in the tour's literature events.
So, in the last week of April these people of letters and their entourage will be poetry riding. This time we are travelling in Latvia, performing in schools of small towns as well as in the center of Riga. I have the joy of documenting the journey and sharing it with you in our webpage, Facebook and outher outlets. Our tour is organized - in addition to Poetry Ride -by Nordic Council of Mininster's office in Latvia and publishing house Liels un mazs. And as always, we would not be able to do this without our cooperation partners Estonian Culture Capital Foundation, Finnish Literature Exchange, Finnish Embassy in Riga and Rozentals-seura.
Jenni

Leave a comment
Back to blog