BLOG
LATEST NEWS
10.12.2014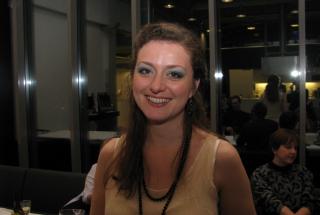 Saturday morning, the last weekend of November 2014. A small army of poets has arrived in the room with the round table. It is the first time for Poetry Ride in Norway. A week ago the journey began in Riga. This year the poetic journey ends in Tromsø. Are you excited? We are! Let´s go!
In A Sea of Bad English
The participants travelling together this week, have become very well acquainted, both with each other and each other's work. New work has been born, new translations have been made during the journey and more will follow after the tour has ended. It´s an inspiring project, also to the participating poets.
– Before the festival begins, there´s a lot of translating being done, says producer Jenni Kallionsivu. The project was founded by the Finnish Institute in Estonia but is now registered in Finland. Jenni herself is Finnish but has lived in Estonia for several years. She speaks flowing Estonian in addition to Finnish. All the countries they are visiting are represented with a poet, and several of the participants on the tour speak more languages, both Baltic languages and Finnish. But not all of them know the same languages, which results in lots of English during the tour.
– We swim in a sea of bad English; "the Barbaric English", as we call it, says artistic director, Guntars Godiņš with a little laugh. The experienced poet is one of the most active translators of Estonian and Finnish literature.
Norwegian poet Gunnar Wærness continues:
– English is a so-called "Killer Language"; it is one of these big languages that kill other languages. Often, English is the only possible door to get in contact with others, socialize, share experiences – unless you learn one of the other languages. My best advice is therefore: Learn more languages while your head is young and fresh!
– I´ve particularly drawn these three bullet points from this experience, Gunnar says and lists:
Translation is important,

The experience of bad English and lack of language,

The bigger knowledge I´ve gained of these countries, the more I understand how little I really knew.
Exchanged Reading
The other poets are Miia Toivio from Finland, Kārlis Vērdiņš from Latvia and Jan Kaus from Estonia. One by one they present themselves and read selected poems. Gunnar then reads the Norwegian translation he has made of each poem. It´s fascinating to listen to; first this flow of words you cannot grasp, then the images fold out and let us get glimpses into another life in another place with a different everyday life than our own, other red days in the calendar, other food memories, other ways of thinking of the same things we are thinking of.
How to Translate from a Language One Doesn´t Know?
During the translation of these Poetry Ride poems, Gunnar has cooperated with a Latvian-Swedish poet Juris Kronbergs, who first translated the poems into Swedish. Then Gunnar used these as a map for the Norwegian translations.
– I´ve found quite a lot of mistakes in my first translations, so I need to do a "total make over". You sense it immediately when you read them out loud. Try reading them to your mum or someone else in your family; they will know immediately whether what you read works well or not. These translations need more testing. If we can make them work, there will come a book.
The Hobby Linguists
Gunnar writes his own texts in nynorsk (New-Norwegian). He has also translated Miia's poems into nynorsk. The melodies sound strangely alike when they both read; the vowel sounds are similar. In some of the other poems he has used bokmål (Danish-Norwegian) – performed in dialect. We understand that there are many choices to make in the work of translating. – What type of language are the original poems written in? Do any of the poets write in dialect? Do the other countries have more than one official written language? Now the hobby linguists in us awaken; the heritage after Ivar Aasen, as Gunnar puts it.
– I think that the poem´s relation to the language is very important, he says.
We let this line set the punctuation mark and hope that you, like us, are on your way into the world to find poetry waiting there to be translated.
Unn Catodotter Fyllingsnes, student of Creative Writing,
University of Tromsø, Norway
Leave a comment
Back to blog