BLOG
LATEST NEWS
29.11.2014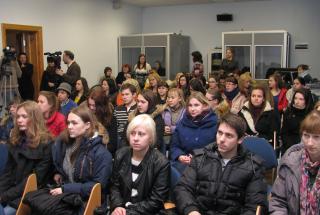 24th of November was a special day for all the people in Daugavpils. Our city welcomes four of the greatest contemporary poets: Kārlis Vērdiņš from Latvia, Jan Kaus from Estonia, Miia Toivio from Finland and Gunnar Waerness from Norway.
The day started with a seminar held in Daugavpils University. Poets introduced the audience with the literature of their countries, latest tendencies, recent characters, problems and methods which are used by contemporary authors, as well as talked about common social and cultural issues that directly affects the world of poetry and other genres of literature.
Thanks to synchronic translation an opportunity to follow the seminar was also provided to people who don't speak Latvian or English. During the seminar poets shared some of their own poems; in that way a little intrigue was given to the audience to join poetry readings in the evening.
After the seminar the "Poetry Ride" exhibition was officially opened. It's located in the library of Daugavpils University, Vienības street 13. Books from Latvia, Estonia, Norway and Finland are available there, as well as audio records and pictures of all "Poetry Ride" participants of all years. We are very glad that it is our university that can host such a great exhibition. It's a great opportunity to explore North-European literature and its' modern tendencies.
And then the impatiently waited evening came. Poetry readings were held in chummy and creative atmosphere at the club "Artilērijas pagrabi". It was so nice to hear there poets again, this time in a bit less formal way. Poetry readings in two languages –original and translation was something unusual for the audience of Daugavpils. It let to hear poem's real sounding, to feel the musicality and expression of Finnish, Estonian and Norwegian languages. Poets were presenting this beautiful sounding in each own original way.
Of course, the audience was fond of foreign guests, but genuine attention raised our own, Latvian poet Kārlis Vērdiņš. His latest works aroused emotions. The audience was reacting, because every listener in his poetry could perceive actual and common everyday life culture codes which were shown through the influence of over-technologized world and society special features. As the matter of fact, everyone of us could find and recognise ourselves in K.Vērdiņš' poetry.
None of us ever doubted that this will be a great, great evening. And it truly was. Here are some impressions of poetry evening's guests:
"I loved the atmosphere in "Artilērijas pagrabi" tonight. It all seemed so free and creative. The poetry was certainly in the centre."
"What an awesome evening! I was pleasantly surprised about these new poets, whose name I didn't know before. It was a great pleasure to hear their works."
"Who could ever imagine, that poem could be such a performance! I absolutely loved every one of them. Their emotional performances, the passion and creativity how they performed moved me till the depth of my heart."
"Poetry of all participants really surprised me. What I heard in these different poems really reflects various problems which were pointed out by artists. The territory of Northern Europe is united but latest tendencies of literature shows something else. "Poetry ride" was a unique opportunity to hear and understand all that ourselves by seeing artists not only impersonal book reading. "
""Poetry ride" opened me a door to completely different world of literature – Finnish, Estonian, Norwegian poetry, that was completely blank for me till now. Thanks to this event I will start to follow the poetry of these countries and artistic movement of poets I have already met."
We are so glad that this year exactly Daugavpils was hosting one phase of Poetry Ride. We hope that the nice, blue bus of Poetry Ride will visit us again, maybe even next year.

Liene Radiņa, BA programme Philology (French language)
Eva Kasparenoka, MA programme Philology (Comparative Literature Studies)
Leave a comment
Back to blog