BLOG
LATEST NEWS
03.06.2014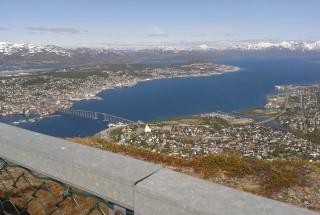 Poetry Ride will have its Norwegian premiere in November, as we are going to visit the Arctic metropolis of Tromsø. We will start our travelling festival from Daugavpils, Latvia, then head to Tartu, Estonia.
After really getting to know our bus very thoroughly we will stop in Joensuu in University of Eastern Finland, and the grand tour will end in Tromsø. In all these places we are meeting with bright young minds and their mentors, speaking about what is happening in poetry scene in each of these countries and the pain and passion of translating poetry. I visited Tromsø for a preliminary meeting with our partner, Anne Oterholm, who teaches creative writing in the University of Tromsø.
This very popular program has been going on in the university for 25 years and been an important step in the career of many modern Norwegian writers. I had the chance to meet the students who are now starting the program and whom we will meet again in November in Poetry Ride. Tromsø 's creative writing program really seems to be highly respected, as I learned that some of the students come from as far as Oslo! And I have no fear that the students would stay silent during our visit: they were a bunch of interesting and intelligent people with a fondness for words.
I also visited the temple of books, also known as Tromsø main library. Seriously, go there if you are in town. In the library I met Øystein and Easterine, who offered me some new ideas and advice. The tourist brochures in the hotel told me that the library is one the main architectural sites in Tromsø.
But I would have figured that out anyway, that is really a beautiful building in many ways! But why did Poetry Ride want to go to Norway in the first place? As I said in the beginning, this is the first time we are venturing out to the land of fjords. Well, the reason is simply that we realised that we didn't have much professional contacts there. We really wanted to have them and to get to know what is happening in the Norwegian poetry scene and also what kind of structures do they have in the field of culture. Well now we do, to some extent, and after November we will know even more. Exploring new territories is one of the many reasons why I love our travelling festival!
Leave a comment
Back to blog