BLOG
LATEST NEWS
09.12.2014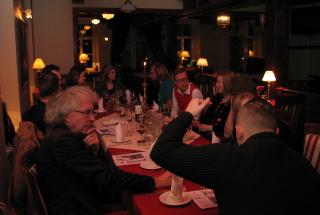 Just shortly, my name is Mika and I am a finn, who prefers to write in Estonian language since the folks here in Estonia simply read and love my stories so much. I love it too! And there are many many many reasons why I love my home town Tartu. One of the main things is the literature scene. Every single one in town I know writes or reads poetry. That is why I also started to do the same in 1993 when I moved here from Ilomantsi, which is quite near Joensuu, the next stop of the Poetry Ride after Tartu. This is the literature town of the globe for me. Not all of us in Tartu become a poet or a writer, but some of us do. I also considered myself as a hobby writer but when people were talking about a pop writer Mika, I had to start ta carry a weight of the writer´s gown on my shoulder. Tartu is unique in this sense. I know I am already repeating myself, but I need to emphasize it. This town makes you an author. Great. I don´t think about it too often, but sometimes I do, snorting tea, being a poet. Meeting other weirdos like me.
Events like Poetry Ride have traditionally been such occasions. I have met many great writers around the neighbor countries of Estonia here in Tartu and 25 November was not an exception. I was glad to meet again old friend Jan Kaus from the capital of Estonia Tallinn as well as Contra, who came to Tartu from the deepest south of the country, Urvaste village. The new friends were Miia Toivio, Kārlis Vērdiņš and Gunnar Wærness. Sorry guys, but I was too fond of Miia to listen your stuff.
This is what I had to write during that evening:
"Poetry Ride"
so the poster said in the street
i went in with a trust of a child
up stairs to the hall and sat down in the last chair row
the hall was full of people a couple of friends and a whole lot of strangers
even from norway
then she came oh shit
wild eye ski capped voice so low so fine
a poet from north far away behind the wolf border
she sang something epic i did not hear any words she said i just dared not
the melody was frighten enough
i crawled under the piano underneath the palm tree leaves and waged war on myself
where the hell did she appear
this wolf and her song
who had taught it to her
the girl continued singing – did she smell me?
oh no it wasn´t fun
finnish yeah true but the tune
or whatever – sound – that´s the word i was seeking for
and listening eyes shut hoping she wouldn´t notice me
i stumbled slowly under the chairs to the back door and out
i took a deep breath freely in the darkness of hipster town tartu
free from the - spell or whatever
i don´t even want to seek the right word (my love) to say
that wondering how on earth did she know my song
*
Oh yeah, those were the feelings. Later in the heat of Tartu I heard something as beautiful. I had forgotten how nice language English can be. It was Contra shouting out his poems on the street:
in the pretty room of hotel
tried to kiss her – she said: go to hell
that's why i'm feeling no well
start to write new horror novel
*
don't you say
that I'm a pervert
when I take away
your shirt
by the way
in our church
all girls throw away
their shirts
Thank you poetry riders! Hope to see you next year!
Mika Keränen, author of Souptown Stories
Leave a comment
Back to blog