BLOG
LATEST NEWS
07.12.2014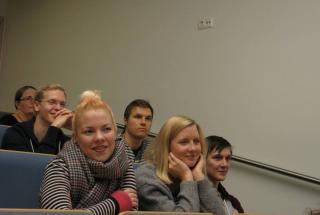 The seminar in Joensuu on 27 November 2014 with poets Miia Toivio, Jan Kaus, Kārlis Vērdiņš and Gunnar Wærness was organized in the cooperation with the University of Eastern Finland. It was also a climax for ending a very popular course of translating poetry supervised by lector of English Languge and Translation Minna Ruokonen and lector of Literature Elina Arminen.
Here comes some feedback from the stundents attending the seminar:
"It was a splendid happening and excellent unity: all parts of it were important, had the right lenght and were compliting each others. Every moment was needed."
"The Norwegian performance was brilliant!"
"I most certainly don't think that the soul of the poem got lost in the translation."
"Who wouldn't have known the Estonian and Latvian poetry can be so entertaining. A positive surprise!"
"It was great to hear poets reading their poetry in their own mother tongue!"
"I also liked to know, where you can read and publish poetry in Internet [in Finland]."
"One thing's certain: we need more Estonian poetry!"
"Music rules! The translation [by Miia Toivio] of the song [Fish by Gunnar Wærness] was impressive. Put the Fish to YouTube!"
"Great speeches, captivating performances. I was surprised to notice how interesting it was to listening to totally foreign languages. Multiples languages worked well!
"Poetry can be fun!"
Student of Geografy Reima Hyytiäinen got also inspired by Poetry Ride and wrote a poem concerning one day in his life, 27 November 2014. The poem came out very well! The poem is written in Finnish.
Joskus aamupäivällä katsoin peiliin ja nielaisin kellon ja
kuuntelin kuinka se alkoi polskia mahassa epätahtiin ja
iloisena kuin ruutana. Seuraa aikaasi! Se muljutti minut
pitkin rantoja, sanoin että opintotukea ei makseta
kiduksina. Kiipesin torniin nähdäkseni mitä tahansa
maallista, katsoin lahtea ja sen kylmää syliä, yritin
kuvitella sen taakse sumuiseen metsään Itä-Suomen
Aluehallintoviraston toiseksi suurimman kaupungin ja sen
kaukokatseisen kaavoittajan
Alhaalla tulvametsän suuhun käveli karhumainen hahmo,
ei ollut ollut verkoilla, oli vain seisonut rannalla taskut
irvistäen
hän karisti yltään seitsemän joutsenta
silti juoksin hänet kiinni märässä hangessa
olisin puhunut viisarit pyöreiksi, mutta suussa virrannut
siima takerteli ja teki tuulenpesiä
Hän ei riiputtanut verkkoja,
minä puhuin yleisnimillä.
Kun kaupunki oli valmis, Baltiasta saapui karavaani sitä
katsomaan. Latvialainen kertoi nahkaa sängyssä
vaihtavista sotilaista, virolainen Leninin taidenäyttelystä
"1922–1991". Heidän matkassaan oli helsinkiläinen, joka
puristi saamaansa hedelmää niin, että siitä lähti väri.
Viimeisessä vaunussa norjalainen hylkeenääni lauloi
muovipussista, ja kala oli koko ajan jäädä teräviin
hampaisiin.
Kun sumu kaupungissa oli jo niin paksua, että rantaviiva
kävi sopimuksenvaraiseksi, kävelin siihen järveen kiiskien
ja Leppästen sekaan.
Leave a comment
Back to blog